I have 2 of the Spring Event '20 Pets equpped (on below wild Knuffel)
but only received 80 butterflies when i collected them last night.
Is this a glitch?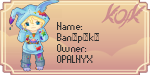 When into the room only to find that one of the pets was showing the exclamation mark even though i clicked both and they both vanished last night.
( i know as i then was dressing the room and both exclamation marks were gone).
Weird.