Yay great to hear :) here's the contest I want to host please!
A secret meeting
Who am I meeting in secret once the show starts? Is it a lover? A friend? A foe? Am I plotting something sinister or a party?
The contest is making an avatar based on the secret meeting prompt! You can use any items or colors you like! It can be serious to silly! Just have fun! If you want to you can have a little saying of who you are!
You can use the Dream avatar creator! And Multiple entries are allowed!
Here is the "character" you are meeting:
Here's a quick example of what I mean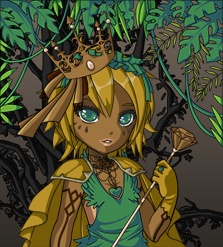 "You are meeting a prince!"
Prizes
1st 2

2nd 1

+ 50k

3rd 1

Other prizes depending on number of entries!
Entries
|
|
Jolien -The Gothic Puppet | Natsuyuki - The "Evil" (Loyal) Servant
|
redk5 - Becca, sister and Runaway Queen | Alexandra - Matchmaker
|
Kuuki - What's the knife for?? | Jolien - Busted flower girl
|
Neith - Gossiping BFF | Hunny - Handsome Knight
Can the contest be run for 2 weeks? And do I need to PM people that a contest started?