I am hoping someone has an extra of the Earth gen 18 knuffel* they'd be willing to sell/swap
*This one: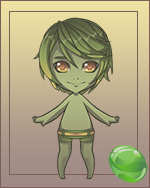 Level does not matter.
I can offer to swap you another knuffel (if I have it and it's about the same value, more or less; we can have either side add a little if need be), or pay in

or, hmmmm....
Well, I could also do something like trade you several trial knuffel at lvl 100 each for just ONE gen 18 knuffel.
You'd have to tell me which elements you want... I have dark, fire, and light on hand but the others I'd have to do some rummaging or possibly leveling so it'd take a day.
If you have something else in mind, let me know.
Apparently I also have some extras of the air gen 17 too... I'd also offer two level 100 air gen 17 for one any-level earth gen 18.
Also, now we have the new event, I'd love to get one of the event room items if possible, should anyone be selling.
Thanks for your help