Hello everyone, it is time for our yearly Doughnight Calendar!
We would like to apologize for this year's calendar items being re-colors of old items again, as we did not have the time to creat 24 completely new items. We hope we will be bale to hold a second part of our winter event that will offers oem brand new items at the beginning of new year.
All of you who were here for previous years already know what Doughnight is about. For the rest of you:
Spoiler: "What is Doughnight?"
For this special celebration the kingdom offers the Doughnight Calendar: A Calendar to count down till Doughnight and gather special event items!
You can visit the Doughnight Calendar and open a window of the calendar each day, starting
December 1st
. In each window you will find a free item either for your avatar to wear or for decorating your Knuffel rooms.
The windows open according to KOfK Server Time. You can see our current server time on the right side of the page or right under the doughnight calendar itself.
Each window will stay open for one day and after that the window closes again and the item can no longer be obtained, so mayke sure to collect your items each day!
You can access the Doughnight Calendar here or through the banner on the right side of the page.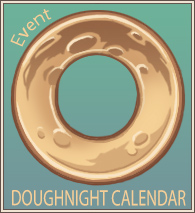 Have fun & a wonderful winter-time!