Chrizine Wrote:
Yes! :) It's the yearly ball of our university :)
I haven't been to it in the last few years, but this year there's a great theme and also it is probably the last year that I'm still a student.
The theme is fairytale castle :)
I already got me an awesome dress that is like all my childhood dreams of princess dresses fulfilled :D
And I ordered a beautiful tiara, I hope it'll arrive in time... I would have had to pay again the price of it in shipping if I wanted to have a guarantee that it'll be there in time, but they said it would be highly likely that it'll be fast enough with the normal shipping as well. So I bought the pearl necklace as a backup today, in case the tiara is too late.
I thought of Ariel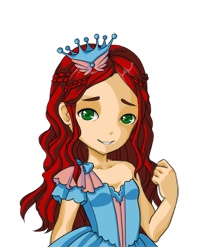 but seriously I don't remember this dress